NEW 2014 WORKSHOP ANNOUNCEMENTS!!!
FINE ART LONG EXPOSURE PHOTOGRAPHY WORKSHOPS:  ARCHITECTURE & SEASCAPES
TORONTO & VANCOUVER
Click on the workshop links provided but also check out the exciting photography awards offered by Stark Magazine (Stark Awards 2014), one of our great sponsors, who will be publishing the work of of some of our workshop participants!  Just click on the photo link below.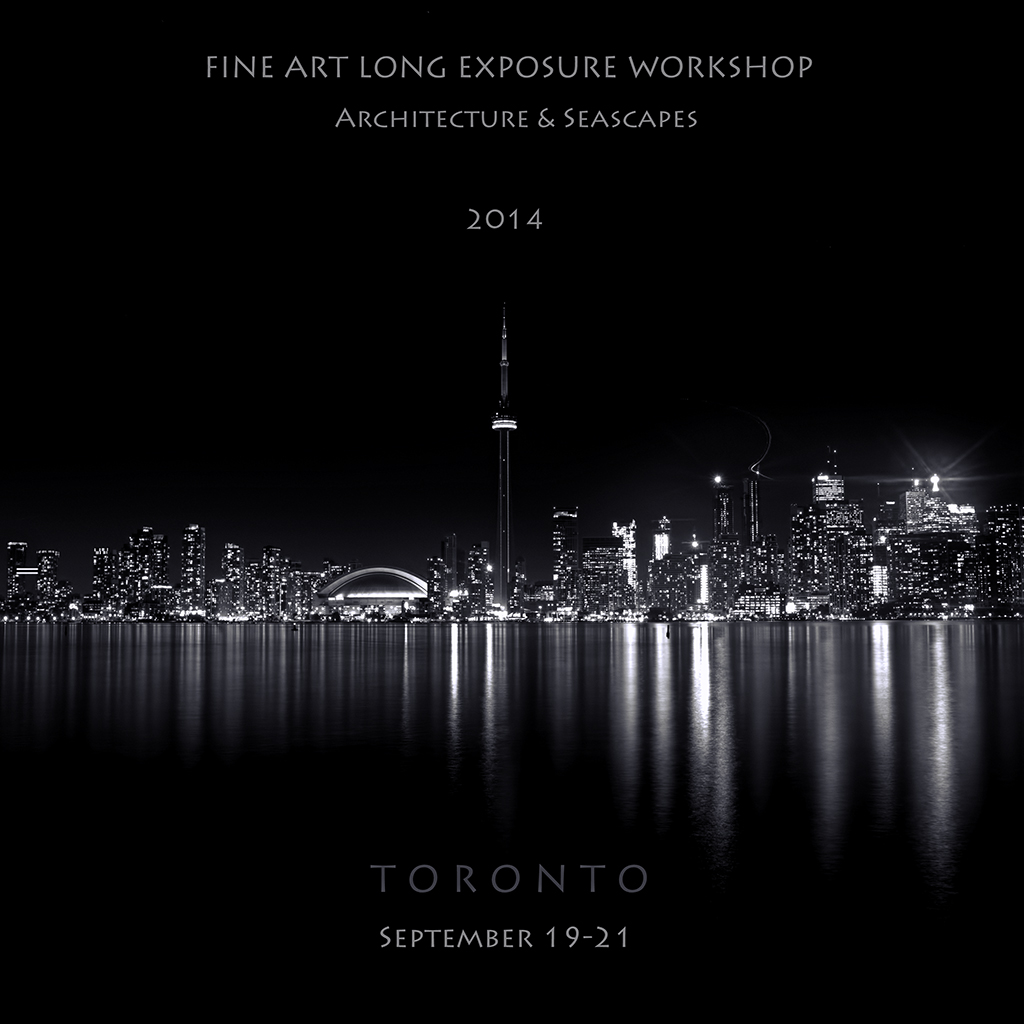 Please click on the image or  here for registration and information.

Here is what participants are saying about the workshops and mentoring services:
"When attending a workshop, there are certain things that will set it apart from others. First, competency of instruction and second, the power to inspire. John and Marc possess both of these qualities and more. The right mix of theoretical and practical activities makes for enjoyable and productive sessions. John and Marc take an artist's vision and make it accessible. I thoroughly enjoyed the workshop and have become a better photographer and artist as a result. Thank you both."

Stan K.
"After explaining how he thinks of composition, John took us out on to the streets and showed us where to look to see compositions in the manner he describes. John's passion about image-making extends to his thoughtful teaching method.  Absolutely superb!".
Marty C.
 "The two-day Fine Art Long Exposure Photography workshop in Toronto with Marc and John was amazing! I have learned so much in a short period of time. I have met amazing people and now have a huge amount of knowledge that I can apply in the future.  Marc and John are very passionate and knowledgeable in their craft. I cannot wait to attend the next one!"


Jaclyn A.
Please click on the image or here for registration and information.
"Thanks to you both for a great workshop and some terrific camaraderie. I gained a lot of confidence and insights as well as technical know how over the course of our two days together."  
Tim H.
"I first stumbled onto John Kosmopoulos from the Topaz Labs Blog article on his 'Oramagraphy' or Vision Drawings.  I was captivated by the lines, patterns and light so prominently displayed in his artwork.  When I went to his website, I discovered his 'Archistracts and Euclidian Jazz' series and was promptly blown away.  Conceptually coining the phrase 'archistract' as a photographic discipline (a conglomeration of the terms architecture and abstract ) his architectural abstract series is nothing short of amazing.  The gallery features BGW (Black Gray White) images distinctly and geometrically euclidian – essential angles & arcs, lines & light, parallels & polygons – alluring, brilliant…compelling.  In addition, John is willing to share his considerable knowledge with emerging photographers as colleague and mentor (by way of personal testimony, his technique and workflow tips have proven invaluable in the development of my own artistic vision).  As an engineer I applaud his minimalist form and perspective; as an artist I appreciate what he is saying – and his work speaks volumes."  
Frank V. 
"I cannot speak highly enough of the weekend workshop in Long Exposure Architectural Photography that I took with John and Marc. They are both warm and approachable and humbly shared their wealth of knowledge with us over the weekend.  It was obvious how passionate they are about photography, and this makes for the best kind of teacher!  They spent a lot of time with each of us, committed to helping us apply the techniques we learned over the weekend.  I came away from the weekend feeling charged up and inspired about my own photography.  I look forward to their next workshop!" –
Leslie G.
DESCRIPTIONS:  A Fine-Art Architecture & Seascapes Workshops with international award-winning photographers, John Kosmopoulos and Marc Koegel of Vancouver Photo Workshops! These workshops are being held in Toronto, Ontario and Vancouver, British Columbia, cities with unique architecture and seascape possibilities, where you will have a chance to photograph fantastic locations and explore creative techniques, angles and photographic vision. This workshop is aimed at covering fine-art long exposure photography techniques as well as post processing, but participants are welcome to photograph using more "conventional" techniques as well. We will provide you with the insights into the vision and perception of two outstanding photographers.
SPONSORS:  The workshops are being sponsored by Formatt-Hitech, Xume Adapters, Topaz Labs, Camerapixo, Stark Magazine & Smugmug!  We will be offering participants amazing prizes during the workshop.

STARK AWARDS 2014:  One of our great sponsors, Stark Magazine, is taking their illustrious magazine to the next level by offering international awards!  Click on the photo for a link to find more and enter this new and exciting photo competition.  Michael Freeman and my colleague Marc Koegel are judges!